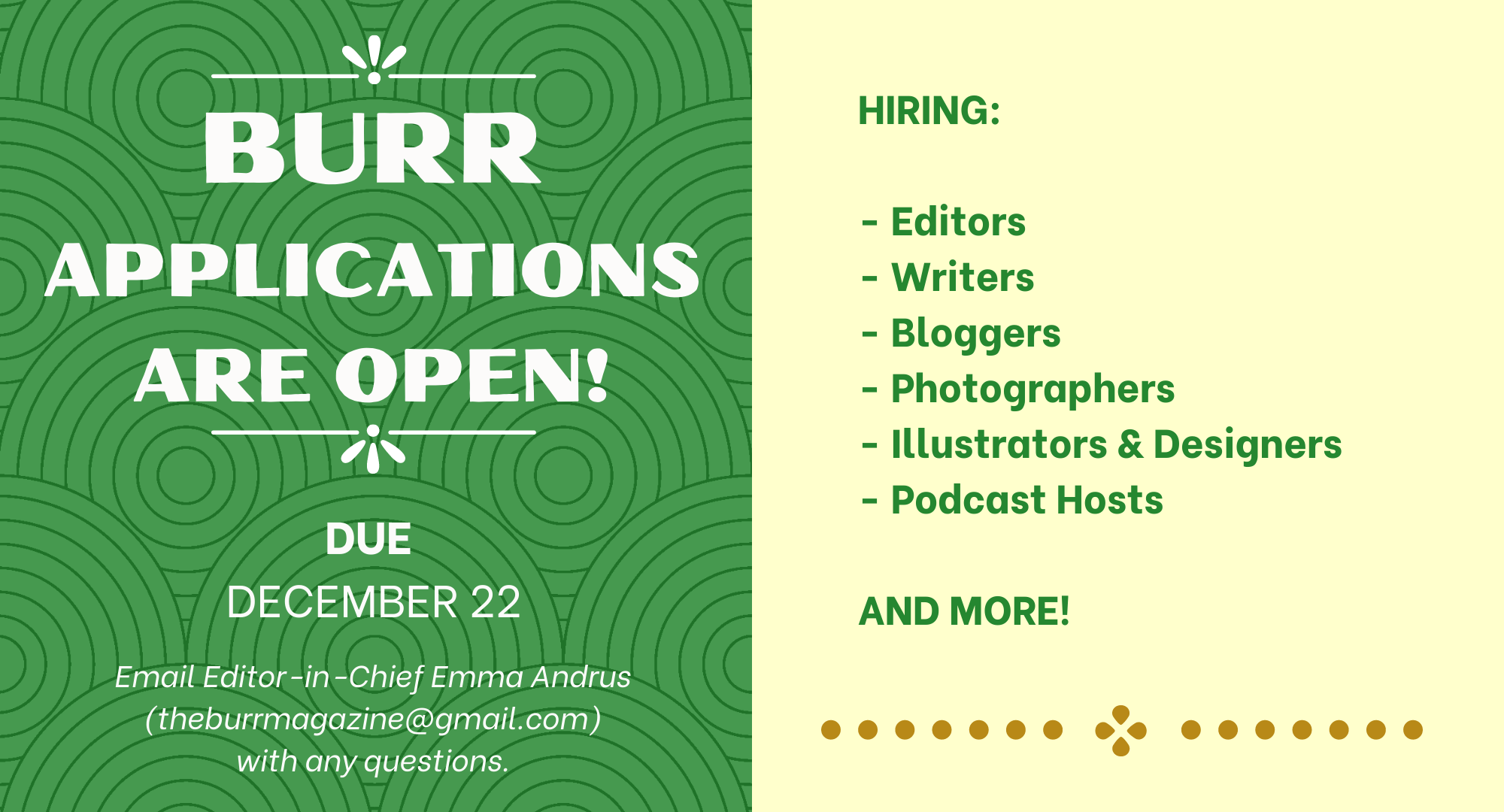 APPLY
Apply for the Burr Spring 2022 Staff!
Applications for The Burr Magazine are OPEN!
Interested in working with The Burr Magazine this spring? Applications are officially open for Spring 2022!
We're hiring writers, bloggers, editors, photographers, illustrators, designers, podcast hosts and more.
Applications should be completed using the attached Word document and are due no later than 11:59 p.m. on Wednesday, Dec. 22. Any Kent State student is invited to apply regardless of major.
If you have any questions about the application process, please contact the Burr's Editor-in-Chief, Emma Andrus at theburrmagazine@gmail.com.
SUPPORT STUDENT MEDIA
We are full-time students and hard-working journalists. While we get support from the student media fee and earned revenue such as advertising, both of those continue to decline. Your generous gift of any amount will help enhance our student experience as we grow into working professionals. Please go here to donate.
Emma Andrus is a junior journalism student from Olmsted Falls, Ohio, with minors in public relations and creative writing. This is her fourth semester with The Burr. Emma is also an administration reporter for The Kent Stater/KentWired and an intern with Kent State's Collaborative NewsL@b. She has been passionate about storytelling and the power of the written word ever since she could read and write, and she is looking forward to seeing what The Burr will accomplish this fall. When Emma is not pursuing her passion for words, she can be found making and listening to music or enjoying good pasta. You can follow her @EmmaBAndrus on Twitter to keep up with her journalism-related endeavors.