Illustration by Alyssa Maziarz
When bright lights would hit my face, I felt at home. Thousands of people have probably watched me dance, but it feels more normal than you would think. For 12 years, I performed under a microscope, my every move recorded. I sometimes wonder how different I would be without my extensive dance experience, but I do not think I would trade it for anything.
I started dancing when I was six years old. My parents noticed how shy and quiet I was and wanted to get me out of my shell. It kind of worked, but more importantly it gave me an outlet for expression. I turned into a different person on stage, which my parents would probably argue was exciting and new to see.
As I got older, I started jazz and tap and began to advance my skills. In fifth grade, I joined the competition team for both my age's jazz and tap group. Traveling around Ohio with my friends was a really great experience and gave me friendships that lasted through high school.
However, added pressure became more apparent as the years went on. I am a type-A person and a perfectionist at heart, so I would practice my routines for hours during the week and would run through routines in my head, especially when I got bored in class. For every song I heard on the radio, I would make a routine up in my head, sometimes going through the motions with my hands and feet, a habit I still can not kick.
At the height of my dance career in middle school, I was at the studio for about six hours a week. While this might not seem like a lot, I attended two to three dance classes every other night that usually went late into the night. I stayed up late to work on homework and study for exams.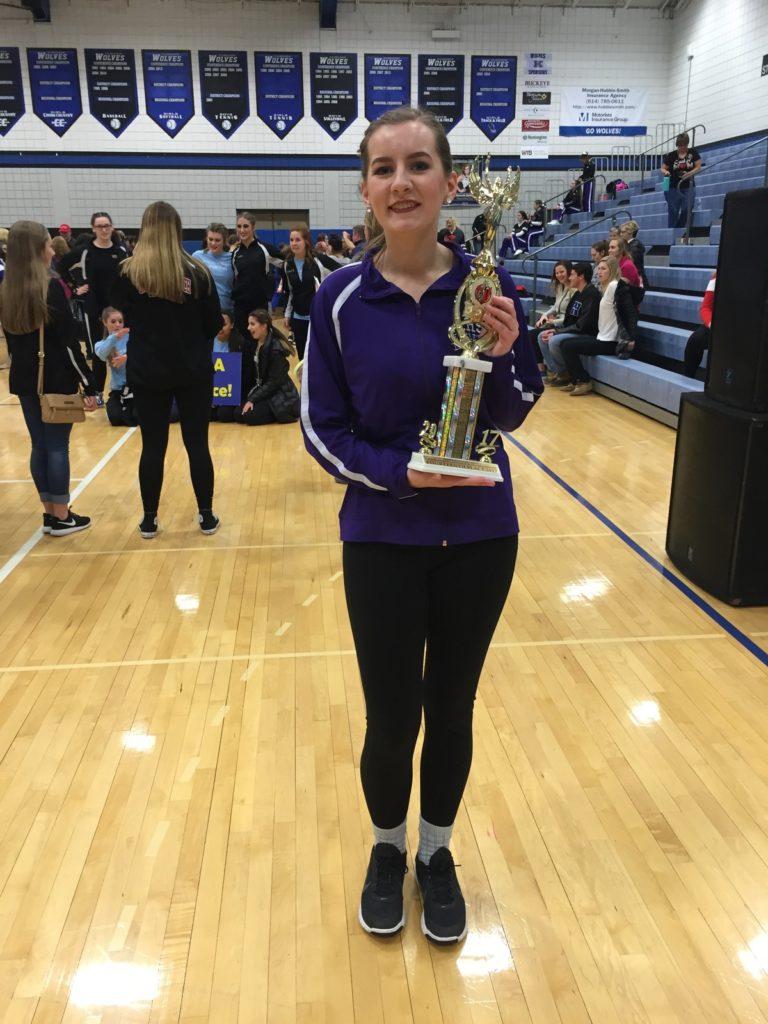 One memory stands out to me: I was working on math homework at a dress rehearsal for my recital and was crying to my mom, because I did not think I would be able to finish it by the next day's deadline.
This was a common occurrence where I became incredibly overwhelmed by the amount of high expectations I had to meet. The pressure made me feel like I was an experiment, seeing how much life could push me to be better and do more when I was already at maximum capacity.
With expectations came self-doubt. I began to compare myself to everyone; my jumps were not high enough, my turns were sloppy, I was not thin enough to be a dancer. This self-critical talk still torments me, and I have not danced since my senior year of high school. Now as a senior in college, I have been reflecting on how dance shaped me into the person I am.
Being a dancer changed the way I viewed myself. Often, dancers are imagined of a certain "type": lean, clean and sharp lines. I never quite felt like I met that type. I often was put in the back because of my height, even though I sometimes felt I deserved to be in the front because I knew the routine and perfected it.
By nature, being a dancer made me my harshest critic. While I worked through years of trying to be more empathetic towards myself, it is still ingrained in me to want to be the best at everything I do, even when I am not capable of doing so.
I want to love myself, and I think most days I do, but having a rigid perspective of what I should and should not be is something I learned through 12 years of trying to be one thing. Dance provided me with the opportunity to learn about myself and to find growth in myself. If anything, I found a balance of knowing my worth and accepting myself for who I am.
I will be frank, I miss the attention and feelings I got when I was dancing. I felt seen as someone I was not sometimes, and it almost felt euphoric. I still run routines through my head and show off my dance tricks at parties to impress people, as some old habits die hard. Maybe I will get back into it when I graduate, but for now, it is just a good memory.
SUPPORT STUDENT MEDIA
Hi, I'm Holly Liptak, a senior journalism student from Akron and the editor-in-chief of The Burr this semester. My staff and I are committed to bringing you interesting, humorous and hard-hitting stories that tap into current events, trends and the lives of those who have made a home in Kent, Ohio. We are full-time students and hard-working journalists. While we get support from the student media fee and earned revenue such as advertising, both of those continue to decline. Your generous gift of any amount will help enhance our student experience as we grow into working professionals. Please go here to donate.
Molly Heideman is a senior journalism major from Avon, Ohio. This is her first semester writing for The Burr and currently serves as the general assignment editor for The Kent Stater and an editorial intern for Akron Life Magazine. Molly has always had a passion for writing and would write short stories and poems growing up. When she's not writing or reporting, you can find her making a new Spotify playlist, crocheting or taking walks around campus. You can contact her at mheidema@kent.edu or follow her on Twitter at @mollyhjmc.