On September 20, 1982, eight-year-old Kelly Ann Prosser woke up in her home in Columbus, OH. She wore a classic pair of blue jeans with a floral top and a blue raincoat over it. After hugging her mother goodbye, she began the walk to Indianola Elementary.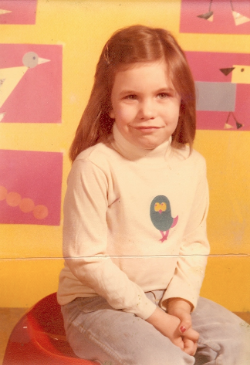 It took a lot of convincing for Kelly's mom to let her walk to and from school alone. She used to walk with her older brother and sister, but they moved up to middle school this year. Kelly still wanted to feel independent and walking home by herself was a way for her to achieve that.
Kelly's mom, Linda, was hesitant at first, but since the school was only a couple blocks away from her home and her work, she finally agreed. The two practiced the route multiple times to ensure Kelly knew the way, even though she had been walking this route for many years. This time it was just without her siblings' guidance.
When Kelly got to school, it was a day like any other. She hung out with her friends, joked around in class and even stayed after to help water the plants. Her siblings typically got home before her, but when she didn't arrive home at her normal time, they just assumed that her mother had picked her up after work.
When Kelly's mom got home that night and asked where Kelly was, everyone was confused.
"Well, I thought she was with you!" Kelly's sister said.
"No, I thought she was here, with you!" Linda said.
Kelly's mother immediately knew something was wrong, and her heart sank as she ran out the door to go search for her baby girl. At 6 p.m. Linda called the police to report her missing, and they sent out a search team that same night.
No one in the house slept a wink that night thinking about where Kelly might be. Witnesses reported seeing her in the area about the time she was to be walking home from school.
Meanwhile, about 20 miles away in Madison County, a family was driving down a country road and passed something laying in the middle of the street, so they decided to pick it up.
It was a blue raincoat.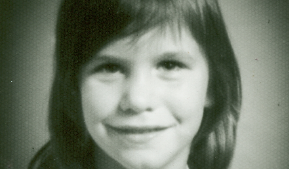 No one in the family thought anything of it until their teenage daughter remembered hearing news that a little girl was missing not too far away, and she was wearing the exact coat described. Police were called out to the rural area around 8:30 p.m. on September 21 and began searching the fields. It soon became too dark, and the search was called off around 2 a.m.
The next day, a local patrolman reported that he found a body near the search site. The scene was gruesome and would give the first responders chills for years to come. Kelly was beaten, raped and strangled.
Her death was immediately ruled a homicide, and the Columbus police began the search for her killer.
Detectives worked tirelessly and exhausted every lead they had to find the person responsible for the little girl's death. Eventually, but not after a lack of trying, Kelly's case went cold. There were multiple suspects at the time who were never officially ruled out until decades later when DNA testing became accessible.
The Columbus Police Department never stopped looking for Kelly's murderer. Crime Stoppers, a local anonymous tipster hotline, turned up as many as five suspects. All tips were looked into but proved to be unhelpful. Over the years, multiple more suspects were cleared using DNA.
In May 2020, the active detectives, with a specialty in cold cases and working Kelly's case, began a podcast called The 5th Floor. It brought attention back to Kelly's case in the hopes that anyone who had any new information would come forward. The police department also began to work with Advanced DNA, a genealogy research company that helped to assemble a potential family tree.
In June of 2020, 38 years after the death of Kelly Ann Prosser, detectives can confidently say that they solved the cold case. DNA from the crime scene was used to identify the killer as Harold Jarrell after establishing a family tree. Finally, after years of wonder and grief, the Prosser family rests knowing that the man who killed Kelly has been found and is deceased.
Harold Warren Jarrell was 29 when he abducted Kelly and caused her untimely death. Kelly's family had no known connections to Jarrell. Columbus Deputy Chief Greg Bodker says, "This appears to be a true stranger abduction."
Jarrell was never a potential suspect in 1982. He was, however, arrested in 1977 for abducting a different eight-year-old girl in Columbus and served five years in prison.
Jarrell died at the age of 67 in Las Vegas before the case was ever solved.
In a statement, Kelly's family thanked law enforcement for their dedication in her case. They also answered many of the common questions asked by the media. As for having feelings of closure and a sense of justice?
"The answer is no,"
They know that no matter what, it can never bring Kelly back, but they are grateful her killer is deceased, sparing the family a trial. When asked if the family could ever forgive Jarrell, they responded by saying, "God will handle those who have wronged us, for he does not let the guilty go."
No, He most certainly does not.
Images courtesy of the Ohio Attorney General's Office
Featured image courtesy of kat wilcox from Pexels
Sources:
https://www.usatoday.com/story/news/2020/06/26/investigators-solve-1982-murder-columbus-girl-after-nearly-40-years/3267089001/
The 5th Floor podcast.
https://www.dispatch.com/news/20200626/solved-columbus-police-close-1982-homicide-with-help-of-podcast-family-dna-database