On October 15, 1983, John A. Muncy, known as "Tony" by friends, asked his father for bus fare to go visit his new girlfriend. If the Muncy family had any hint of what was going to happen to the 15-year-old, they may have reconsidered letting him leave.
The next morning around 8 a.m., miles away from Columbus in Delaware County, two men driving around looking for deer spotted five garbage bags off the side of the road. One of the bags appeared to have an elbow sticking out, and police were called to the scene.
Muncy's body was cut up and mutilated with a knife. His arms were cut at the shoulder and again at the elbow. With multiple stab wounds to his torso, stomach cut open and head nearly decapitated, his body was unidentifiable. The body was depleted of blood, even in the heart, so the only blood at the scene was on the clothes found in a separate trash bag. This led investigators to believe Muncy was killed somewhere else and dumped in the rural area.
Meanwhile, Gladice Muncy was growing increasingly concerned, because her son hadn't returned home yet. She assumed he just stayed the night at a friend's house as he often did, but it was starting to become late. At 7 p.m., she called the police to report John missing after a radio broadcast said an "unidentifiable young boy's body" was found, according to the "True Crime Garage" podcast.
The murder resulted in years of difficult investigation. Police tried to piece together where Muncy was the night before in order to build a list of suspects. Muncy's girlfriend at the time was interviewed, and she stated that she did not know he planned to come visit her that day, and he never showed up. One classmate claimed to have seen him at York Plaza and that the two had a conversation, but this was considered unreliable since no one else in the area spotted them. Kids had nightmares, and the Muncy family was living in one.
Two main suspects were presented at the time. The first was 18-year-old Timothy Edward Hall. Just two months after Muncy was murdered, Hall was sent to prison for murdering a blind man. Hall suffered from schizophrenia, and in prison he often talked to a "person" named John. This raised suspicion with investigators, and they attempted to test blood found at the crime scene. However, the department never released those results.
William Wickline Jr. was the second suspect in Muncy's murder. Wickline was considered to be one of the most dangerous criminals in the state. He was sent to prison for murdering two people, cutting up their bodies and disposing them in garbage bags around the city similar to the way Muncy was killed. His blood was never tested, so he remained a suspect for years. Wickline was executed for those two murders in Ohio in 2004.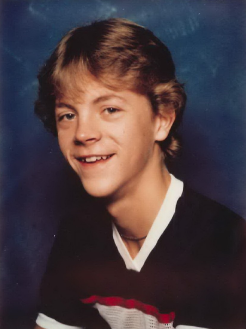 Decades went by without movement on the case. Due to the availability of new technology, the Delaware County sheriff's office began working on the case again in 2013.
With the help of Parabon Nanolabs, a DNA/genealogical database, investigators used DNA preserved from the crime scene to identify Daniel Alan Anderson as the murderer. Anderson was 30 years old when he killed Muncy and had a "violent criminal history involving young boys," according to NBC4. Anderson died in 2013, seven years before he could be identified as the killer.
In a statement, Muncy's younger brother said,"It means the world to my family. He'll never go to jail for this crime, but the biggest thing we all know is he'll never hurt another person again. There are two families who are hurt in this, and I hope this is something they can find some closure on themselves as well."
This was the Delaware County Sheriff's Department's second-oldest unsolved case.
Sources:
True Crime Garage podcast. Episode 36.