Five Ramen Noodle Recipes: Quick, Easy, Affordable Recipes For College Students
Featured image courtesy of Ponyo Sakana from Pexels
Let's face it, ramen noodles are basically a food group for college students. I am guilty of eating them regularly, as I am sure many others are too. Ramen noodles are quick and easy to make. They are also affordable. Typically, I either eat plain chicken-seasoned ramen noodles or shrimp-seasoned ramen noodles. Although ramen noodles are ambrosial and flavorful, after a while eating the same thing constantly can prove to be boring. So, I wanted to try and switch up my ramen noodle eating experience! Listed below are five different ramen noodle recipes that I tried. They are ranked one to five, from my favorite ramen recipe to my least favorite, although they are all very delicious. I hope you enjoy and find a new recipe to try! 
I enjoyed this recipe the most, because it made me feel warm and relaxed. The steam warmed my face and brought fog to my glasses. My mouth started watering when I took the first bite from my fork. The egg was so soft and chewy. During my next bite, I tasted the crunchiness of the ramen and onion. As I began to finish the ramen, the strong, distinct taste of parsley and onion lingered. That taste made me hungry for more. This recipe allowed for the perfect combination of textures and flavors.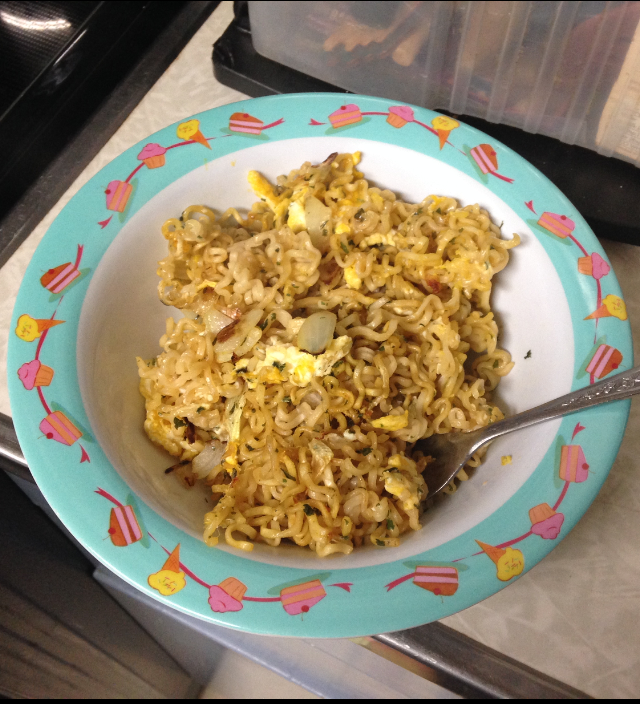 Ingredients
1 package ramen noodles, any flavor
1 teaspoon chopped fresh parsley or to taste
1 tablespoon vegetable oil
½ onion, chopped
2 eggs
1 teaspoon water, or as desired
1 pinch salt
Step 1
Bring a pot of water to a boil. Add ramen noodles and cook for three minutes. Drain water and stir seasoning packet and parsley into noodles.
Step 2
Heat oil on a non-stick skillet over medium heat. Cook and stir onion until fragrant, about two minutes. Add noodles and stir for two minutes more.
Step 3
Whisk eggs, water, and salt together in a bowl. Pour into the same skillet as the noodle mixture. Cook and stir eggs until set and cooked through for about two to four minutes.
This recipe provided a healthier option by including vegetables. The combination of egg, vegetables and ramen made for a flavorful, enjoyable dish. The first bite I took filled my mouth with the taste of the egg and cheese. The flavor of the yolk was mild, and the mouthfeel was reminiscent of peanut oil. The cheese taste was salty and creamy. The second bite of ramen noodles and the chicken seasoning, mixed with egg and cheese left an enjoyable, lingering taste.
Ingredients
1 package chicken-flavored ramen or flavor of choice
2/3 cup frozen mixed vegetables
1 tablespoon butter
2 tablespoons shredded parmesan cheese
1 egg
1 pinch salt & pepper
Step 1
Fill a small saucepan about halfway up with water and bring to a boil over high heat.
Step 2
Remove the seasoning packet from the ramen and set it aside. Add dry ramen noodles and frozen vegetables to the boiling water. Allow to boil for five minutes or until the noodles break up easily when poked with a fork. While the noodles and vegetables are boiling, melt half of the butter in a small frying pan and crack in the egg. This is for a sunny-side-up egg. If you like eggs cooked longer, do so. Season with a pinch of salt and pepper. Cook on high for one minute and then reduce heat to medium and cook for four minutes.
Step 3
Drain water from the noodles and vegetables and return to the pot. Sprinkle the contents of the seasoning packet over the noodles and vegetables.
Step 4
Add in the other half of the butter and all of the shredded parmesan cheese and stir until well combined, and the butter has melted. To serve, add noodles and vegetables to a big bowl and top with the egg. Enjoy!
This recipe allowed me to eat a balanced meal that was tasty and affordable. The taste of ramen noodles and mashed potatoes was unlike anything I have ever tried before. After I topped the mashed potatoes with ramen noodles and kielbasa, I mixed them together. To add more flavor, I also added pepper. The pepper and kielbasa contributed heavily to the flavor of this dish, because the mashed potatoes blocked a majority of the flavor that came from the ramen seasoning. I was satisfied with this dish, but in the future, I would recommend using less mashed potatoes and a second packet of ramen noodles.
Ingredients
1 serving of instant mashed potatoes
1 packet of ramen noodles, any flavor
Kielbasa, optional
Step 1
If you decide to add kielbasa, follow the same steps. Just make sure to boil the kielbasa and add on top of the ramen and mashed potatoes.
Make mashed potatoes according to box directions. Meanwhile, boil water for ramen noodles.
Step 2
After the ramen is boiled, drain 3/4s of the water and add flavoring.
Step 3
Finally, put mashed potatoes on a plate and top with ramen noodles.
This recipe allowed me to try some ingredients that I had never worked with before. Until now, I had never tried scallions or sesame seeds. The scallions provided a milder taste than the average onion but proved to be just as savory. The sesame seeds provided a satisfying crunch and a sweet, nutty flavor. Having the poached egg in the recipe added a much needed texture to the dish. It made each bite fluffy and soft.
Ingredients
1 pack ramen noodles, any flavor
1 large egg
½ teaspoon butter
2 slices American cheese
¼ teaspoon toasted sesame seeds
½ scallion, green part only, thinly sliced on the bias, optional
Step 1
Bring 2 1/2 cups of water to a boil in a small saucepan. Add the noodles and cook for two minutes. Add the flavor packet, stir and continue to cook for another 30 seconds.
Step 2
Remove the pan from the heat and carefully add the egg. Do not stir; pull the noodles over the egg and let sit for one minute to poach.
Step 3
Carefully transfer everything to a serving bowl, add the butter and sesame seeds and mix. Rip up the cheese into thin slices and add to the serving bowl. Garnish with the scallions if desired.
Once again, this provided a healthier meal choice. My vegetables of choice were green peppers and tomatoes, two of my favorites. My mouth was watering a significant amount before I took my first bite. Every bite I took felt crispy and the flavor was robust. The taste of the green peppers was more present than the taste of the tomatoes as the tomatoes did not fry as easily. Personally, I do not recommend using tomatoes in this recipe. I would also recommend using broccoli, celery, onions, asparagus, cauliflower, and eggplant in this dish.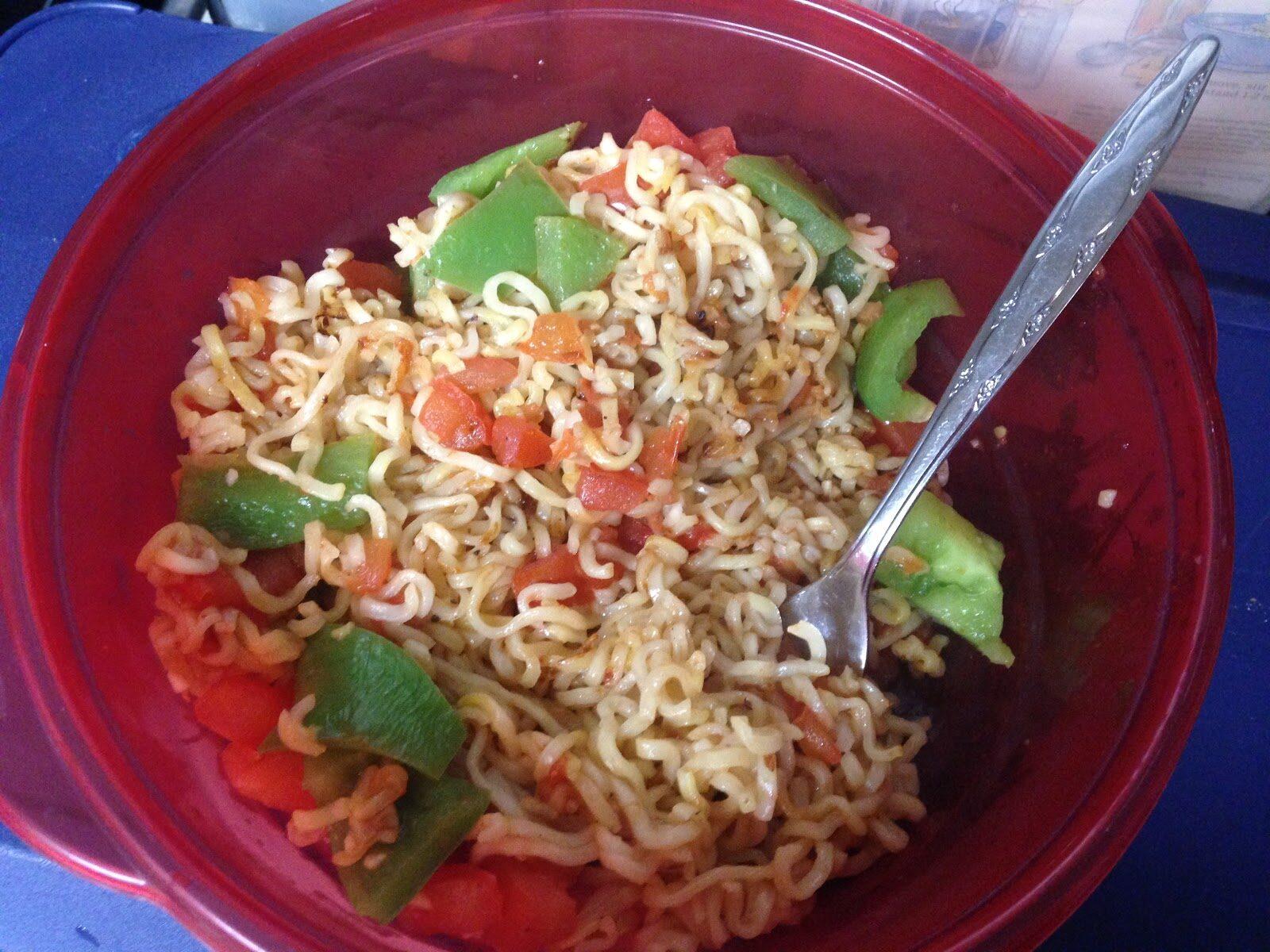 Ingredients
Your choice of veggies
Vegetable oil
Pack of ramen noodles, any flavor
Step 1
Heat up an oil-greased pan.
Step 2
Cut up your vegetables and put them in the pan. Stir them until brown.
Step 3
Boil ramen noodles, then add seasoning to the boiled water.
Step 4
Drain the water off the noodles. Then, add the noodles to the veggie pan. Stir until noodles are crisp. Enjoy!