"The Crown's" Depiction Of The Winsdor Unlucky Romances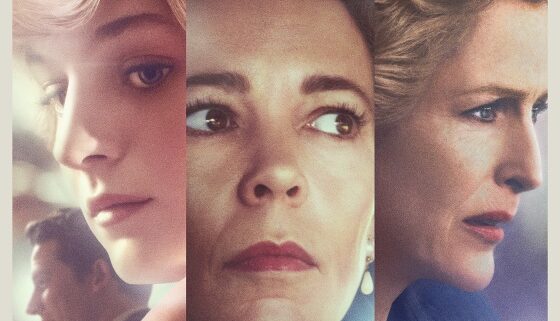 Image from Netflix
As I watch the current drama with the British royal family and former senior members, Prince Harry and Meghan Markle, unfold, I can't help but think: "I wish I could see this on 'The Crown.'"
"The Crown" is one of the highest-grossing Netflix original series. It's a historical drama that follows the life of Queen Elizabeth II and her family from her marriage to Prince Phillip, Duke of Edinburgh, up until around the time period of Princess Diana's tragic death. There are four seasons released and two more to come until the show's end.
One of the main attractions of the show, which I've personally never seen anywhere else, is how every two seasons, the actors change as the royal family ages. Queen Elizabeth was portrayed by Claire Foy in seasons one and two, while in season three and the most recent fourth season, we saw the role taken up by Olivia Colman. It's an interesting take on a historical television show, which I found really keeps the show interesting and brings in a lot of viewers from throughout the years.
Speaking of new faces entering the show, one particular new face was that of actress Emma Corrin, who played Princess Diana in the fourth season. The character of Princess Di was someone that I looked forward to seeing since I started watching season one all those years ago. I remember thinking about how I couldn't wait to see her story unfold and discover how Netflix would relate it to their portrayal of the Winsdors themselves.
With the recent drama surrounding the late princess' sons and her ex-husband, Prince Charles, I thought it would be an interesting take to look back into the drama that unfolded on "The Crown" and analyze it in regard to the current events going on.
For those of you interested in watching "The Crown," or are living under a rock and don't know anything about the drama of the British royal family, warning — there are spoilers to come.
Although I've admired Princess Diana since I was a little girl and became obsessed with William and Kate's wedding (don't lie — you watched at least some part of it back in 2011), I've never really known much about the other royals until watching the show. I knew who the queen was, of course, but other than that, I was pretty naive and unsure about the rest of the history of the British monarchy.
For me, that's what makes "The Crown" so interesting. It is like an entertaining history lesson, and the stories that unfold (all true, of course — even if dramatically embellished) are so captivating for myself and other fans of the show.
Dialing this back to the drama today with Prince Harry and Meghan stepping down as active members of the royal family, also commonly known as "Megxit," the show reveals that, historically speaking, this isn't the first time this has happened.
The Queen's uncle, Edward VIII, Duke of Winsdor and the former King of England for less than a year, abdicated the throne to marry his lover, Wallis Simpson. Simpson wasn't exactly the right fit for a queen according to British officials, so he gave up his title and crown in order to marry her. This abdication set off a chain of events that eventually led to the current monarch, Queen Elizabeth, as heir to the throne.
I know, it's a lot to unpack. That's what I thought too when I first watched season one, and it only got even more confusing and drama-filled after that.
Cue Princess Margaret, who was the Queen's younger sister. In season one, Princess Margaret is played by Vanessa Kirby and her unlucky lover, Captain Peter Townsend, is played by actor Ben Miles.
Apparently, as far as the show is concerned, Margaret engaged in a secret affair with her father's former equerry (which is a senior attendant in a household): Peter Townsend. When they asked Elizabeth for permission to marry, it escalated into a terrible falling out where the Queen eventually denied Margaret her love to Peter, and the two are separated indefinitely.
This also set off a chain of events that lead to Margaret spiraling into an abyss of luckless romances, eventually leading her to marry Anthony Armstrong-Jones. After 18 years of marriage and amid rumors of an emotionally abusive relationship and allegations of a cheating scandal, it turned out that Margaret did not have the fairy-tale marriage she hoped for. The royal couple would eventually divorce, and let's just say that marriage ended terribly with a capital "T."
You'd think that being royalty meant having less problems, but it looks as if there's more there than what normal people typically suffer through.
More drama unfolds throughout the show, but keeping with the theme of unlucky romances, you're probably more familiar with the love-triangle between Prince Charles, Princess Diana and Camilla Parker-Bowles.
As much as the media and general public in the United Kingdom may strongly dislike Prince Charles, I will say that after watching season three, you do feel bad for him. Much like his uncle Edward VIII, Charles' then-girlfriend, Camilla Parker-Bowles (previously Camilla Shand), was not a suitable match for his family. Somehow the royals got involved and made it so that Camilla married her then-boyfriend, Andrew Parker-Bowles (who she simultaneously was in love with while she was with Charles), which left Charles utterly heartbroken. Looks like breakups are pretty similar even when you're royalty too …
However, instead of working on himself and moving on with his life, Charles decided to stay obsessed with Camilla and saw her frequently despite his search for a wife.
This brings me to season four and closer to the eventual tie-up of this whole ordeal. Prince Charles met the lovely Diana Spencer and, at least according to Netflix, the royal family fell in love with her and saw her as both the perfect match for Charles and a great choice to be the future queen of England. They pretty much forced him to propose to her and the pair were married. Unfortunately, we know how this one ends: in a very ugly divorce.
To sum it up, season four ends with Diana coming to the realization that Charles is still in love with and will always be in love with Camilla. Although we know the ending of their tragic marriage, this still needs to be unpacked in seasons five and six which, again, will see a change of actors as the series is drawing to a close.
To tie this all together, it seems that Netflix got (factually at least) a lot of aspects right about the unlucky romances this family seems to experience and how it's spanned throughout generations. However, it is important to note that the Winsdors have spoken out against some of the drama seen on "The Crown" and mentioned how equally a lot of things were inaccurate and wildly dramaticized. I mean, you'd think that they'd learn by now to let love be love and to be a bit more embracing to societal changes … but it looks as if these issues are still as relevant now as they were in the 1940s.
Prince Harry's situation reminds me a lot of the depiction of his great-uncle, Edward VIII. Estranged from his family and exiled,although Harry's leaving was not as dramatic or forced as Edward VIII's, all to be with the woman they love.
While I know nothing about how the establishment of the British monarchy works, I'm sure there are reasons as to why other matches did not work out in the past, much like Peter Townsend. It's definitely confusing for the sake of the treatment (i.e. losing titles, protection, allowance, etc.) that Prince Harry and Meghan received from the royal family and a majority of the British public.
Will any of this drama be resolved? Maybe, maybe not. Until then, I'll be keeping up with the drama in the media today and rewatching my favorite episodes from "The Crown." Do yourself a favor and start watching, I'm sure you'll find a favorite too.