Kindness In Kent
How one group of students hopes to change the game — one act of compassion at a time.
On the morning of March 8, I was washing my hands in a Franklin Hall bathroom. My eyes were aimed down at the porcelain of the sink. Then, I looked up to adjust my windswept hair with the help of the mirror. And I was greeted with kindness.
A white Post-It note reading, "You are enough," met my eye. It was stuck to the mirror in front of me. When I looked around the rest of the bathroom, more notes covered in affirmations, uplifting quotes and mantras were scattered around.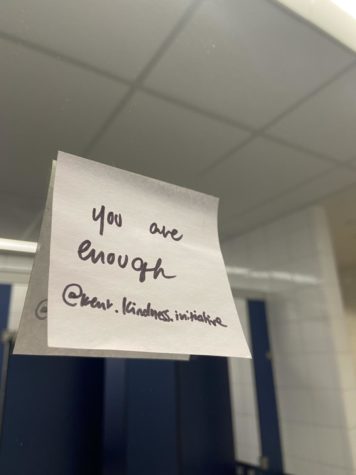 As I went about my day, I noticed that all around Franklin Hall, these notes covered the walls and floors. They were stuck to bulletin boards, on classroom doors and above water fountains. Kindness was unavoidable. 
At the base of each note was an account attributing the notes to their origins: @kent.kindness.initiative, the group's Instagram handle.  
I reached out to the Kent Kindness Initiative to learn more about this newly-budding endeavor on campus. 
The initiative's roots were forged in the soil of the School of Media and Journalism's Media and Movements class. The course teaches about various social movements and encourages students to take on a project aimed at creating change within the world around them. 
Seven students of the class led by Roseann "Chic" Canfora (a survivor and eye-witness of the May 4, 1970 shooting at Kent State) banded together to form the Kent Kindness Initiative as their project. The group plans to engage in various acts of kindness across campus throughout the course of the semester.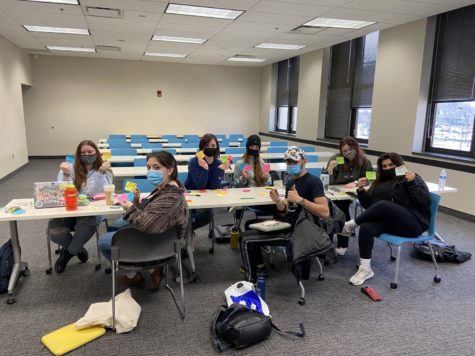 "Being a part of this class, we have had the honor of learning about so many different kinds of movements," says Kent Kindness Initiative member Sarah Viers. Viers is a junior communication studies major with a minor in media advocacy. "I was thinking that creating a group that focuses on small but impactful acts of kindness could benefit the community."
Della Fowler, a freshman journalism major with a media advocacy minor, is also a member of the Kent Kindness Initiative.  
"We all, for the class, had to write down a list of stuff we really cared about," Fowler says. "Professor Canfora had us do a roundtable discussion. We were basically like, 'If you care about mental health and spreading positivity on campus, let's make a group chat.' And we did, and everyone had a bunch of ideas, so we thought it would be cool to combine them and put them out to the world." 
The Post-It note project was the group's first undertaking. Group members worked together to spread the notes around campus. 
Though there is no sole leader of the group, Viers says she is responsible for the group's first project, attributing its origins to her experiences with low self-esteem, both while growing up and even now.  
"One of the things that really helped me through those times was writing myself these little notes on Post-It notes and putting them on my mirror for me to see every day," she says. "So instead of looking in the mirror and thinking these negative, hurtful thoughts, I would see positive ones instead. And it would really help me go throughout my day, and I figured it might help other people as well." 
Fowler has a similar personal connection to the project and its mission. 
"I have a mental illness," she says. "I have anxiety. I have multiple anxiety disorders."
Originally from Texas, Fowler says she was drawn to Kent State, and ultimately, Ohio, because of its atmosphere of kindness.
"I found that up here, a lot more people want to talk about mental health, but they also want to make other people's mental health better," she says. "We had a textbook called 'Love Where You Live' by Peter Kageyama, and we actually got to speak with the author. And I just really felt empowered and inspired from his talk with us about how starting initiatives can pay tribute to the place you are [in]." 
Viers says the group has a lot of future projects in the works, noting that they will be predominantly "art-centric" in nature. The majority of these projects will be a mystery, she says, but she did share that their next project involves painting rocks and placing them around campus. 
In a matter of days, the group has amassed a following of more than 150 on its Instagram account (as of March 10).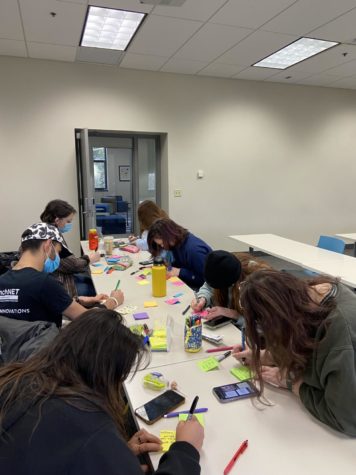 "I was looking through the direct messages today [March 8] on Instagram, and I've already had people come up and message me, saying, 'Hey, I want to join this group. I've been hoping something like this would start for a while now,'" Viers says. 
Because multiple members of the group are anticipating graduating in the next couple of semesters, the future of the group is unknown. Despite the uncertainty, Viers hopes that chain reactions of kindness will still find their way around campus. 
"I hope that even if this group technically does end that the spirit of random acts of kindness will continue, and that other people will remain inspired," Viers says.
Leave a Comment
Donate to The Burr Magazine
Your donation will support the student journalists of Kent State University. Your contribution will allow us to purchase equipment and cover our annual website hosting costs.