From growing up in Kentucky to having her clothing shown on a runway in Hong Kong, Frances Brunner is the definition of hard work paying off. 
Brunner's journey began in high school when she started embroidering shoes with her best friend. They started their own brand, Frank and Glenn, which just started out as just two best friends embroidering for fun. 
Shortly after, her best friend suddenly passed. Although this loss was one of the most difficult encounters Brunner had, embroidering was the one thing that got her through the pain, so she stuck with it. 
After looking at possible colleges for fashion design, she decided Kent State was the place she wanted to be. 
Following her sophomore year, she took a gap year and did a work exchange. She then did an internship in New York and decided it was time to make her return to Kent to finish her degree. 
This past September, Brunner was featured as one of nine international finalists for the Redress Design Awards in Hong Kong. She spent about a year working to develop three different looks for her application, all driven by sustainability.  
"I worked to develop a textile made from denim waste, it's made from denim shoddy which is reprocessed denim fibers that I wanted to needle felt together to create this new super-textile," Brunner said. 
She was flown out to Hong Kong to see her pieces hit the runway, meet the other eight finalists and explore the city's fashion industry.
"All of it was sustainable, with a very –detailed approach of how to design for recyclability, reconstruction, end-of-cycle and zero waste designs," Brunner stated. 
Brunner is currently working on her bachelor of fine art's senior thesis collection with sustainability as one of her driving motives. 
"That collection is focused on the critical ego on a personal level and how we can use fashion to help people reclaim personal dignity by untying the knot of the critical ego through self-awareness and support," Brunner said.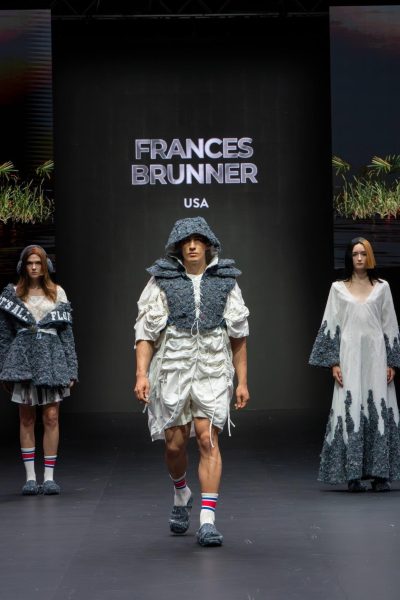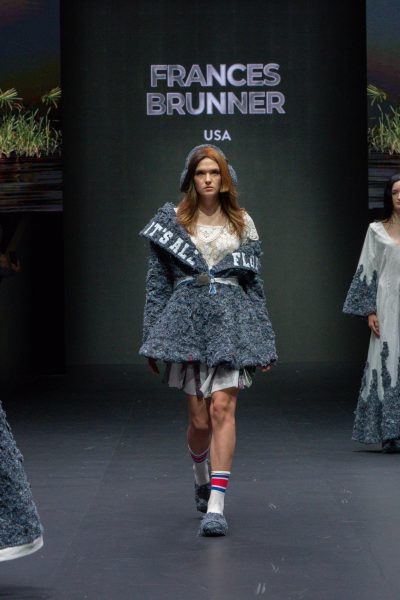 By looking at her accomplishments, you see that humanity is the driving factor behind each piece of work she produces. 
The impact that people have on the industry is one of the biggest ideas Brunner stressed, and she encourages consumers to think more about who they can be impacting. 
"If we start to see and value individual objects and fashion as something that's valuable and something that should be used throughout its lifetime," Brunner said. "Then I think some of the consumption and our mindset around consumption will respond and react to that."