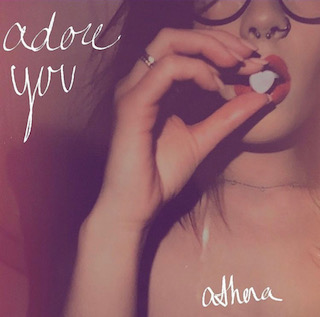 What does falling in love feel like? Just listen to "Adore You," the first professionally released song by local singer-songwriter and Kent State student Athena Rex, the mind behind Elara. The song, which was uncoincidentally released around Valentine's Day, explores the idea of letting your guard down and falling completely in love with someone.

"It explores the process of falling for the person, recalling specific moments that drew you to them," Elara says. "I wrote it for the person I'm in love with now and worked really hard to convey just how much I love her."

Elara has been writing music for almost a decade, inspired by powerful female artists like Hayley Kiyoko, Halsey, Ariana Grande and Taylor Swift. "Adore You" even sounds like it belongs on one of Taylor Swift's earliest albums.

"I taught myself to write music modeling her songs when I was younger, so you are able to see her impact lyrically," Elara says.

The structure of the song is reminiscent of a Halsey song, the verse-chorus-verse-chorus-outro pulling you into the robust lyrics that slowly change from insecurity in the beginning to fulfillment at the end. The song starts with the line "Not really into love, it's always torn me up" and ends with "I fell for you, and I think this time I got it right," which is hopeful that their love will last forever. If you listen very closely, you'll hear a tape recorder sound at both the end and beginning, a metaphor for the circadian rhythm of love.

While strong 21st century women were a big influence, the song also pulls from '70s synth sounds and '80s ballads for the instrumentals. These nostalgic beats combined with the more modern lyrics make the song a unique blend of genres, something you don't quite hear as often as you should.

"This song is one of the most heartfelt things I've written in my life," Elara says. "It made me realize that it's okay that I've been hurt before, and that I'm allowed to be happy and in love despite that."

You can listen to "Adore You" here and follow Elara on Instagram here.
Featured image by Miguel Á. Padriñán from Pexels