Small Business Central: A Peek into Downtown Kent
Words by Julia Duanetto and Kaitlyn Finchler
Photos by Hayley Vitale and Kaitlyn Finchler
In 2020, COVID-19 escalated with alarming speeds, infected masses and halted the economy. Small business owners needed to change their usual course of action to keep their businesses going, working at limited capacity or shutting down entirely. This made it harder to adjust to continuously changing health and safety standards and somewhat restructuring how their businesses operate overall.
Franklin Square Deli
If you are ever craving a deli sandwich with chips and a pickle, you might want to stop at Franklin Square Deli has many fresh and delicious menu items to offer to get you through the day.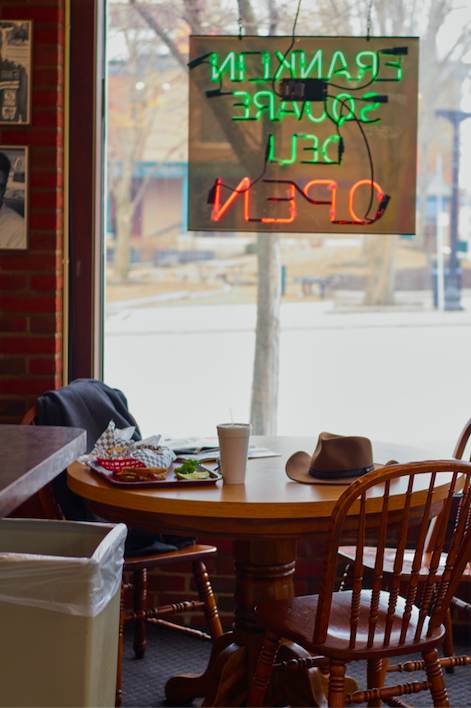 Franklin Square Deli has been in historic downtown Kent since 1983. Located on the corner of Water and Main Street, the menu's essence is fresh, "cut to order" sandwiches, made in the customer's view. For 38 years, they have created new sandwich recipes while their classics remain unchanged.
Owner Carl Picelle says that the numbers from pre-pandemic to now are not comparable, and they are "clinging on with our fingernails trying to make sure that we can get through the next phase of life."
They have not closed during the pandemic and say that without the pandemic, they are usually at about 60% carry-out and 40% dine-in customers.
"We were already pretty much geared up for that type of transition into all carry out," Picelle says. "Then it went to partial dining which helped, but we're doing good [and the] community stepped up very strongly."
Woodsy's Music
In 1972, Woodsy's Music opened as a small instrument repair shop in downtown Kent, now Northeast Ohio's largest "independent, family-owned and operated music store."
"The idea came, because there were no people around to do instrument repair," owner Paul Braden says. "Back then, products were not easy to find, so we decided we would go into getting some gear for people to purchase."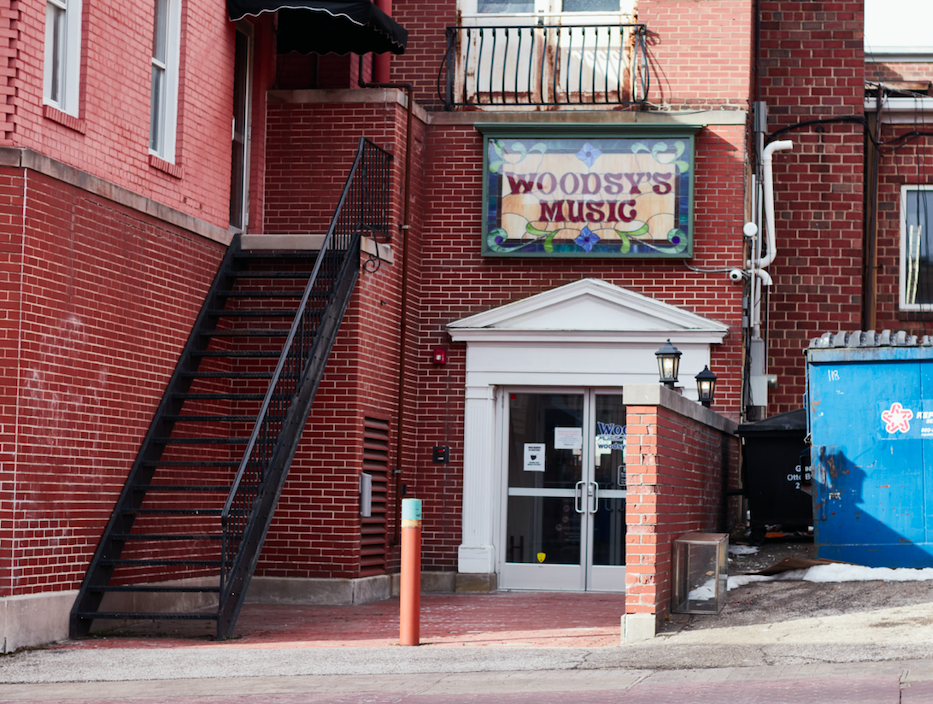 Instrument repair has been their specialty over the years, but they also offer music lessons. At the start of the pandemic, half of the students went online, and the other half quit. Braden says that the pandemic challenged them with the amount of people on staff they have.
"When the pandemic hit we didn't see anybody, and that was quite a challenge, because we have 25 people that work here full-time, and we pay benefits and a living wage," Braden says. "It struck us hard."
The shop also works with concert touring and concert sound systems and installations. That was another facet of business they disconnected with for the time being. Woodsy's Music is Braden's only source of income, and they closed for two months in the beginning of the pandemic. They started an online store over 15 years ago, but it recently grew as people were at home looking for something to do while they were out of work. Learning an instrument, starting a podcast and other activities people sought after during lockdowns made a difference in sales, which are now only starting to pick up. The shop had to hire in an extra employee to help the physical store become covid-friendly. With the extra person, they are able to adequately clean the store.
Regarding customers not obliging to COVID guidelines, Braden says there are some, but the staff tells them to mask up and social distance.
"People are excited to get back out and listen to live music [and] do a variety of entertainment," Paul Braden says. "When things get back, we feel like things will explode."
City Bank Antiques
In July 1995, City Bank Antiques was opened by Karen and Don Barrett in the historical 1911 City Bank building in Kent. The Barretts established their business focusing primarily on antiques such as books, pocket watches, vintage jewelry and repairs. 
"Since the revitalization of Kent, we had a lot of pedestrian traffic. The town was more vibrant, there were more students coming in, more people walking around," Karen says. "Once COVID hit it was totally different. We shut down for two months." 
While having no online stores to stay true to their old-school approach, City Bank Antiques made no sales for the two months.
"Our inventory is different than most inventories in the retail world," Karen says.
They offer a unique collection, and they put trust in people walking into the store. The store is Karen's only source of income. However, her husband has another source of income, the financial group located right above the antique shop.
The majority of their customers come from out of town, but Karen says this has dropped off after reopening.
"We were doing appointments [for repairs], but people weren't really coming in, because everyone was uncertain of what was going on."
In concerns to COVID-19, Karen says that they haven't had many issues with customers or procedures not following COVID-19 guidelines, but sometimes time can be an issue to factor in.
"The only problem we have is when customers stay in the shop for too long. They love to browse; they stay here 45 minutes to one hour sometimes. That's where we have a little bit of a problem," Karen says. "Sales are OK; in our line of work it has been difficult anyway. People don't collect as they used to."
Ray's Place
In 1937, Ray Salvador opened a restaurant on a little brick road downtown known as Ray's Place. Three owners later, Charlie Thomas has owned the business for over 43 years, and they serve everything from alcoholic beverages to Reubens to the famous "Mofo" burger. 
Ray's is a tavern-style restaurant where locals and Kent State students and faculty come to dine. Thomas says that the pandemic forcing them to do carry-out only for a period of time decreased their sales by a hefty amount.
"There's a different cost factor, because now you're putting everything in to-go containers, and that's a caution we never had before," Thomas says.
As far as following the COVID-19 guidelines, Thomas says that Ray's adapted quickly, and was very cautious from the start.
"We set out a policy, and we followed it, and we still do, and we will until the governor really lessens his restrictions," Thomas says. "We just follow the guidelines, and we don't put ketchup bottles on the table, we bring containers, … we have a mask mandate and we have a distance mandate, all that."
Thomas is hopeful for more business as the restaurant has been open at half capacity, with groups no larger than 10.
"As we get warmer weather outside and the windows open, I think it'll get better," Thomas says. "People feel more comfortable. I think as we get more shots, vaccines and I think as we get into the fall, we'll see market improvement."
Erie Street Kitchen
When people think of Southern Creole food, Kent does not always come to mind, but Erie Street Kitchen wants to change that. Owner Jeff Crowe and his staff bring a selection of delicacies to the menu including southern fried chicken, lobster rolls, crab cakes and more.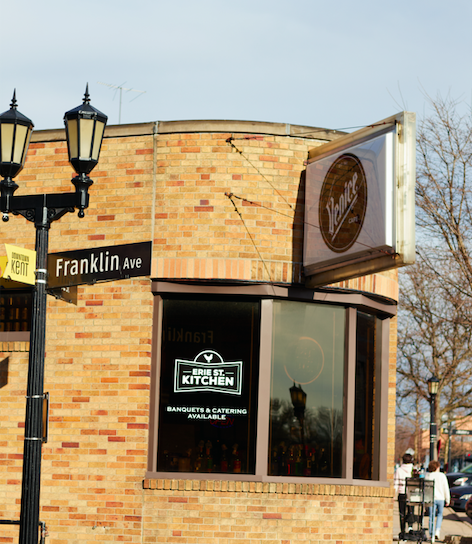 As far as their business during the pandemic, Crowe says they are not experiencing much of a decrease in sales, only about 20%. They minimized the hours they are open for dine-in, so most of their income comes from carry-out orders.
"We actually schedule [carry-out orders] almost like a reservation," Crowe says. "When you call we tell you what time you can pick it up, so we try to make sure we don't flood the kitchen by trying to eat at 6:00. We space time; the later you call in the harder it is to finance, like a busy restaurant."
A lot of their business comes from locals. Crowe says they lost a lot of their business when the Kent Stage closed.
"I'd love to have the Kent Stage open, because we get a lot of their customers for concerts and whatnot, sporting events and you know, that counts they were more important to me," Crowe says.
One of the COVID-19 precautions they are taking is putting any cash they get in a bleach solution before it gets put into the register.
"Money is dirty, all money is very dirty, so we sterilize it coming in [and] with it going back out as clean," Crowe says.
Crowe says he is grateful for the loyal customers, and throughout the pandemic, people have been buying meals after cooking at home for the week.
"People having home cooking fatigue has helped us a lot when you know you've already made dinner and cooked over three times, you're ready for some food."