Live from Kent, Ohio
Local musicians play on despite the disappearance of live shows
Words by Grace Marie Burton, Photos by CeeJay Scott and Grace Marie Burton
Picture this, you are a musician. You have worked tirelessly on a project for months and months. The energy you have put into your work is now translating into excitement for others to hear it. Then all of a sudden, a once-in-a-generation catastrophe. Instead of being in a career progression, you find yourself stalled inside your home for the next year, unable to make money off your creation.
Many musicians began to panic with the dawn of COVID-19 in the spring of last year. With the digital media age of streaming music, the primary method for artists to make money is via touring and playing live. More established musicians might have an easier time weathering a year without touring, but independent musicians depend on touring and day jobs for their survival. COVID-19 might have created more time for them to work on their music than they might have had otherwise, but it is still affecting them negatively. The local music scene in Kent experienced this aggressive halt firsthand. Kent's music scene often combines with Akron's scene, making a 17-mile-wide pool of all sorts of artists and venues.
One of the most well-known venues is the It's a Kling Thing! House, located near downtown Akron. The Kling Thing venue opened in 2007, with Tyler Brown taking over in 2013. Brown's been the curator of countless shows of national and international bands since then. He not only books bands to come to play in the tiny basement of the house, but he has also been a host, musician, networker and worn countless other hats that come with owning a nonprofit venue. When COVID-19 started, Brown was an eyewitness to this rapid annulment of shows.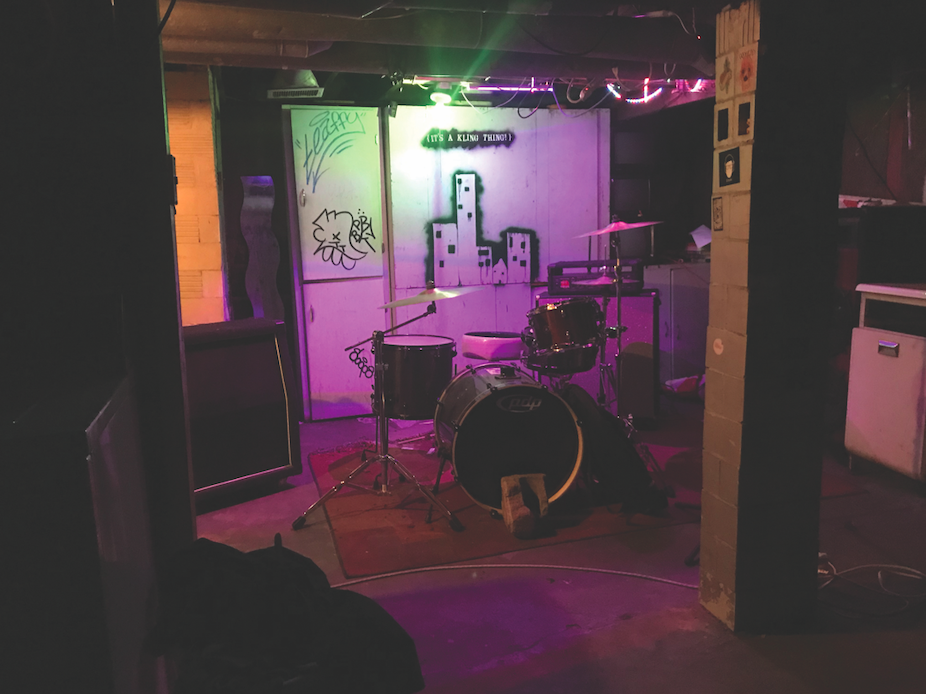 "We had some pretty big shows in the works. I had one in April, and there were well over a hundred people that were going to come to the show. It was going to be just a ridiculous show and, sadly, we had to cancel it of course due to the coronavirus," he says.
Along with having to cancel shows, Brown also found difficulty within his own personal music projects, the biggest one being his band: Ghost Slime.
"Once corona hit, everybody was worried about practicing with one another and hanging out with one another … our friend worked in a grocery store … he just shut himself away and didn't want to hang out with or affect any of us," he says. "It was kind of a similar thing where practicing with your friends, you're like, 'Oh, should we right now? I don't know if we are gonna affect one another and cause something bad to happen,' I kind of stopped practicing, stopped doing everything."
Since artists cannot tour on their upcoming projects, a lot of them chose to instead sit on the projects until touring becomes safe. Many creatives finding themselves in these predicaments started their own projects to keep the creative muscle firm and strong. Brown is no different, making his own solo project during quarantine entitled "Life's a Gas."
"So when I do music stuff, I can't practice with anybody right now, I'm just going to wing it and make my own music and see what happens. I was just basically messing around, and then I figured it out," Brown says. "Just playing around, I discovered I could make music another way. It's kind of forced me to be creative in different ways because I don't know if I ever would have done it if coronavirus wouldn't have happened."
Jordan King, a member of the Kent band Swell Tides, was in a similar situation. In March of last year, nine days before Ohio entered lockdown, Swell Tides released a split EP with Akron band Roid Rage. In celebration of the release, the groups planned a release show.
"We were going to do a big release gig with two drummers in both bands [and] three saxophone players," King says.
After the show was canceled, King found himself missing playing music with others and experiencing slight anxiety over his creative process.
"The big thing I miss is jamming with people, you know, that's the big thing, just kind of carelessly getting together with people and drinking some beers and just jamming. That's kind of just not happening right now."
This is not an uncommon feeling for people involved with the creative arts; COVID-19 created a lot of free time for artists to create, but has also birthed numerous anxieties for everybody living through it. Writer Madeleine E. Vaughan summarized it perfectly in an article entitled "Being Creative During Quarantine."
"For those who are capable of creating to a professional level, they have the added pressure of usually having a vocation related to their art," Vaughan writes. "Perhaps it's a full-time job … the point is that their art is intrinsically connected with work. They can't draw or write for pleasure, because if they're drawing or writing, they should be working!"
This, along with the market of social media which forces creative-types to be constantly posting their work for free, can lead to creative burnout for anybody. Add a global pandemic on top, and it is a recipe for a severe lack of creativity. For musicians, making music is only half of the process of being an artist. Performing live is the other half that completes that circle.
While Brown and King had some experience performing live under their belts, other musicians found the progress of their careers halted. Craig Johnson, a Kent State student who performs under the name C-Spoke, has been creating music since he started college. Johnson says the lockdown actually improved the spread and engagement with his debut EP as well as his creative process in general.
"Just because music now is digital, so it's still easier to spread it. Actually, the start of COVID helped my music get out to more people because everybody was in the house. Naturally, more people were just looking for music to listen to, so it helped me a lot in that sense," Johnson says. "With the extra free time, it actually allowed me to focus on my craft more, which was good for me since I didn't have to worry about everything else that I used [to]."
Despite this, Johnson also expresses the faults COVID-19 has stamped into his performance chances.
"I would love to try to perform at the school at some point. That's the only thing where I would say COVID messed me up," Johnson says.
It is difficult to see the future of music from here; the handful of vaccines are being distributed to the nation's most vulnerable and things are slowly being reopened. Compared to when lockdown started, progress has finally begun. While music is not the highest priority on the list of COVID-19 issues, it is an important part of the fabric of society that will make its return when the time is right.