To quote our favorite fearless hero from the 2022 Dreamworks animated film "Puss in Boots: The Last Wish": "I am not really a math guy, you know?" 
But maybe I am a little bit of a math guy when it comes to surveys. When I took statistics during my senior year, we conducted a school-wide paper survey, which at certain points, could be a relaxing, monotonous task. For once, something math-related really clicked for me. When I was deciding what to write about for my blog, this didn't even come close to the first thing I thought of, but I'm glad I did. I wanted to create a blog where I get student feedback, learn about all of your preferences and get ideas from you! 
This first survey had a bit of a bumpy start. I'm fortunate enough to have gotten 16 responses, but my reach was limited. I'll admit, my questions were very barebones and basic:
What grade are you in?
I figured the Kent State class of 2027 Snapchat story would be a good starting point to gather interest and responses, and I had hoped students from other stories might see it. Thus, 93.8%, or 15 out of 16 of the responses, are from freshmen.
Which college are you a part of?
I included all 13 colleges at KSU. 31.3% were in the College of Education, Health, and Human Services, another 31.3% were in my own college of Communication and Information, 18.8% were in the College of Arts, 12.5% were in the University College and 6.3% were in the College of Nursing. That's 5 people, 5 people, 4 people, 2 people and 1 person.
How has your school year been so far?
The options for this question were "Great!", "Okay," "Hard to say," "Subpar" and "Awful." I'm happy to say that 43.8% of responses said it was great, while 37.5% are doing okay and 18.8% find it hard to say. 
Has it been easy for you to make friends with similar interests?
The options were "Very easy," "Somewhat easy," "Idk man," "Somewhat difficult" and "Very difficult." I got at least a response in each category. 56.3% of responses find it somewhat easy to make friends with similar interests. The second two highest percentages state they don't know, or that they find it somewhat difficult. Hang in there, guys. You'll find your people! 
What is your favorite color?
This question frustrated me to no end. Upon looking at the results, I realized the pie chart's colors didn't match up with the color names; red's slice is blue, purple's slice is light blue, and blue's slice is purple, although miraculously, pink is pink and green is green. Perhaps there's a way to tweak this that I have not yet discovered.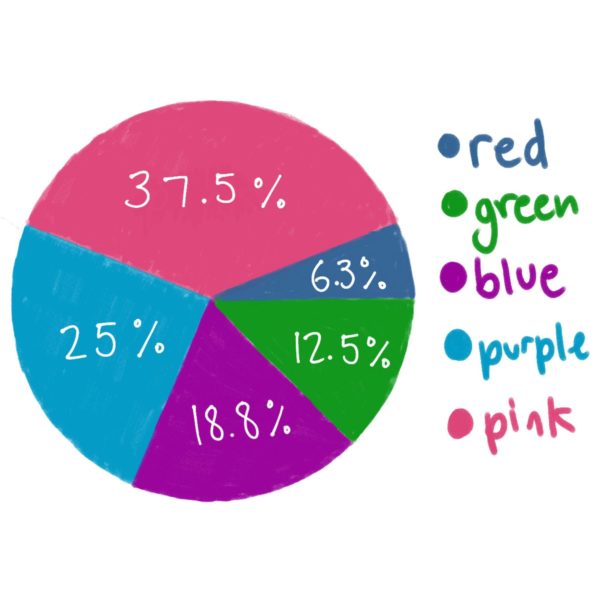 With this year being the year of "Barbie," pink took first place with 37.5%. While the pink pie chart slice brought me to happy tears, the light blue "purple" slice failed me, but still makes up a quarter of the pie.Other less popular choices were blue, green and red. I'm sad to say my own favorite color, yellow, hasn't been accounted for.
What is your favorite season?
The standard spring, summer, fall and winter options proved once again that fall is a universally adored season, and with the temperature finally dropping and the leaves finally falling, I get it. Out of all the responses, 68.8% love fall, while 18.8% love summer and the remaining 12.5% love spring. As a winter enthusiast myself, I get why many of you shake in your boots thinking of the ever-approaching stretch of dark, cold, snowy months. I can't relate. I shiver with excitement at the thought of it! But maybe that's just me. 
Finally, I asked if anyone had any topic suggestions I could cover on Number Crunch, and the results were almost entirely a resounding "no." I should have rephrased that to be, "What suggestions do you have for me to cover on Number Crunch?" and maybe I wouldn't have received a chorus of no, nope and "naur." There were a few suggestions which I will absolutely explore in the next survey!
So far it's been a learning experience. In the future, I plan to ask questions on a chosen theme, and now I think I have some better ideas. I'm grateful to everyone who responded, and I hope I can reach a wider audience next time. If you have any topic ideas, you can email me at [email protected]. 
Until next time, remember you are 100% amazing!