Anytime is the Write Time
THIS WEEK'S OBJECT
Being a student means I write a lot. I write notes, in a planner, and on way too many Post-It notes. I also type a lot, but that uses the same keyboard over and over again.
Before spring semester started, I got pens from a few people. All were birthday presents, actually. I guess hearing "English major" gives people the idea that I want things to write with. 
Normally I write in pencil. It is a bit annoying being left-handed sometimes, like when there's that lead stain on your hand and paper after writing. Pencils are affordable and easy to erase, not to mention they are what I was taught to write with. So growing up, I used pencils to write. Pens were reserved for signing things or coloring. 
I started the spring semester off by using one of the gifted pens. I appreciated that I could write quicker. I wouldn't get as many hand stains after writing either.
INITIAL THOUGHTS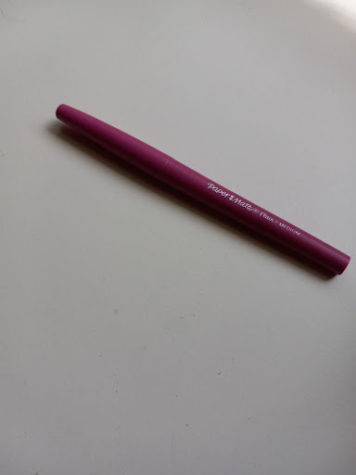 After discovering pens gave me a smoother writing experience, I looked around for ones I never really used. The pink pen, found in an abandoned-for-months pencil pouch, is this week's object. Even though it is a felt tip pen, it is a pen nonetheless. 
Starting this week, I'll be writing everything down using this pen, from class notes to Post-Its.
See you next week for the update.
SOME Q'S FOR YOU
Do you still write things out? 
If so, do you find yourself using only pens or pencils?
Or does that vary depending on what you're writing? 
I'D LOVE TO HEAR YOUR ANSWERS BELOW!
THANKS FOR READING!
Leave a Comment
Donate to The Burr Magazine
Your donation will support the student journalists of Kent State University. Your contribution will allow us to purchase equipment and cover our annual website hosting costs.